Indhold:
Hvad er MR-skanning?
MR-skanning er en metode til at optage deltaljerede billeder af kroppens indre. MR står for Magnetisk Resonans, som er det fysiske fænomen, der udgør grundlaget for teknikken. Den bruges til diagnostik af sygdomme såsom cancer, ryg-, hjerte-, led- og hjernelidelser. Derudover anvendes MR forskningsmæssigt til eksempelvis lungeundersøgelser og kortlægning af hjernens funktioner. Nedenfor følger eksempler på MR-optagelser og dernæst en nærmere beskrivelse af metoden, der på engelsk er kendt under navnet MRI.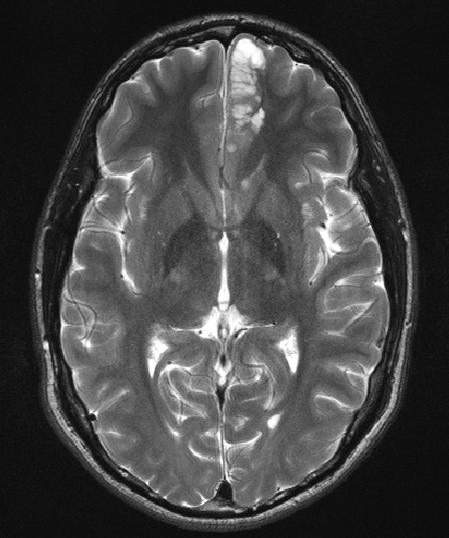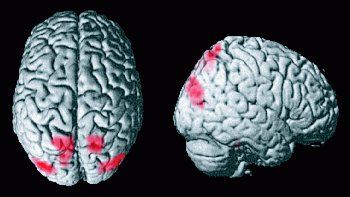 MR kan bruges til skanning af alle dele af kroppen. Billedet viser snit gennem torsoen af en rask forsøgsperson med blandt andet rygsøjle, lever, milt og nyrer.
Anvendelser af MR-skanning
MR-billeder har typisk en meget fin kontrast mellem forskellige vævstyper. Dette gælder eksempelvis rask hjernevæv og væv ramt af blodprop, hjerneblødning eller sclerose. Derudover er MR kendetegnet ved en helt utrolig fleksibilitet. Udover at danne billeder, der afspejler anatomi og vævets konsistens, kan MR-skanning f.eks. bruges til at måle, hvor hurtigt blodet flyder, hvordan hjernens dele er forbundet, og endda hvilke dele af hjernen der bruges til at tænke en bestemt tanke (funktionel MRI kaldet fMRI). Metoden kan også afsløre hvilke kemiske forbindelser, der er til stede i kroppen - en teknik, der ofte anvendes af kemikere under navnet NMR spektroskopi. MR-skanning er således ikke blot én undersøgelse men en lang række meget forskellige undersøgelser, som har et grundlæggende fysisk fænomen til fælles (beskrevet nedenfor). Ofte vil disse målinger blive kombineret for at give et mere komplet indtryk af sygdommen, så diagnosen bliver så præcis som muligt. Yderligere eksempler på anvendelser af MR-teknikken kan f.eks. findes i DRCMR årsrapporterne.
MR i Danmark
Landets første MR-skanner var en donation fra Simon Spies til Hvidovre Hospital i 1984 med tak for god behandling. Skanneren anvendtes til diagnostik af patienter, og omkring den opstod centret DRCMR, hvor forskning, udvikling, og kliniske anvendelser er samlet under et tag. Sidenhen er der sket en utrolig videreudvikling af MR-metoderne, og de anvendes nu til undersøgelse af en lang række sygdomme i alle dele af kroppen. MR-skanning er en relativt dyr teknik, så indtil for få år siden var den forbeholdt større hospitaler. Den høje diagnostiske værdi af MR-skanning har æren for, at MR-skannere idag findes mange steder i landet. Dansk Selskab for Medicinsk Magnetisk Resonans, DSMMR, samler det sundhedsfaglige personale, der arbejder med MR. MR-forskning og -diagnostik er stærkt repræsenteret i Danmark, ikke mindst på grund af godt samarbejde på tværs af hospitaler og universiteter, forskningsbevilliger fra patientforeninger og forskningsråd samt store fondsdonationer fra eksempelvis Simon Spies Fonden, Lundbeck Fonden og andre. For eksempel har John og Birthe Meyer Fonden foretaget en overordentlig stor donation af midler til etablering af landets første ultra-højfelts skanner. Den er placeret på Hvidovre Hospital, og blev ansøgt sammen med en lang række hospitaler og forskningsinstitutioner. Feltet i denne er 7 tesla, hvilket er 140 tusind gange større end jordens magnetfelt !
MR sikkerhed
Et kendetegn ved MR-skanning er, at teknikken menes at være fuldstændig uskadelig. Der anvendes magnetfelter og radiobølger ved skanningen, men hverken røntgen- eller radioaktiv stråling som ved nogle andre skanningstyper. Selvom MR-skanning ikke er baseret på stråling, kunne metoden jo i princippet alligevel have skadelige effekter, men hverken kendte aspekter af biokemi, biofysik eller 40 års erfaring med teknikken tyder på nogen negativ effekt. Med jævne mellemrum diskuteres mobiltelefoners eventuelle skadelige virkning (potentiel effekt af radiobølger). Hvis mobiltelefoni skulle vise sig at være skadeligt, er MR det sikkert også, da de anvendte radiobølger er sammenlignelige. De fleste taler dog mere i telefon end de bliver skannet, og den potentielle risiko ved MR menes at være tilsvarende mindre.
Selvom selve skanningen er uskadelig, har det vist sig, at et såkaldt kontraststof, som bliver indsprøjtet i en blodåre ved visse typer skanninger, kan være skadeligt for svært nyresyge patienter. Almindeligvis udskilles stoffet fra kroppen via nyrerne kort efter skanning, men for nyrepatienter kan det blive fanget i kroppen. Det skal understreges, at problemet kun menes at opstå i meget specielle tilfælde (udelukkende ved kombination af høj dosis, svært nedsat nyrefunktion og brug af bestemte præparater). På Hvidovre Hospitals MR-afdeling menes der, trods daglig brug af kontraststoffer i 30 år, ikke at være tilfælde blandt de mange tusinder af patienter, der har fået kontraststof. Det samme gælder de fleste andre afdelinger med MR-skannere. Yderligere information om problemet kan f.eks. findes hos Sundhedsstyrelsen og på de internationale MR-selskabers hjemmesider (ESMRMB , ISMRM).
Hvordan virker MR-skanning?
MR-skanning er baseret på, at visse atomkerner er magnetiske og dermed opfører sig som små kompasnåle. Når kroppen anbringes i skannerens kraftige magnetfelt, ensrettes kompasnålene, hvorved kroppen magnetiseres ganske svagt. Ved anvendelse af radiobølger kan kroppens magnetisering bringes i svingninger omkring nord, ligesom en kompasnål, der får et lille skub. Dette mærkes ikke af patienten. Når radiobølgesenderen efterfølgende slukkes, vil kroppens magnetisering fortsat svinge i cirka et sekund, før den falder til ro igen. I denne periode udsendes der svage radiobølger fra kroppen. Disse opsamles ved hjælp af antenner, og ved en efterfølgende analyse af signalerne dannes billeder af kroppens indre, som beskrevet i noten Introduktion til teknikken bag MR-skanning, som er udarbejdet i forbindelse med MR undervisning.
Hvordan foregår en MR-skanning i praksis?
Undersøgelsen foregår i en skanner, som står i et selvstændigt rum. Patienten eller forsøgspersonen placeres på et leje, som føres ind i en rørformet magnet, der er oplyst og åben i begge ender. Den legemsdel, der skal undersøges, placeres midt i skanneren. Undersøgelsen udføres af praktiske hensyn fra et separat kontrolrum.
Som konsekvens af det kraftige magnetfelt og de anvendte radiobølger kan ikke alle patienter blive MR-skannet. Visse former for metalliske genstande kan være farlige at have med ind i skanneren. Har man f.eks. pacemaker eller metalsplinter i kroppen, kan man normalt ikke blive skannet. De fleste indopererede metalimplantater kan skannes, men det er vigtigt på forhånd at kende til sådanne. Personalet er derfor meget omhyggelige med at udspørge alle patienter. På grund af magnetfeltet er det også vigtigt, at man f.eks. tømmer alle sine lommer og fralægger sig ur, betalingskort og smykker, inden man kommer nær skanneren.
Undersøgelsen består af en række forskellige målinger. Mellem målingerne, der typisk varer fra 20 sekunder til 10 minutter, bliver man normalt i skanneren. Det er vigtigt, at man ligger helt stille under undersøgelsen.
Der bruges rutinemæssigt kontraststof ved en række MR-undersøgelser. Kontraststoffet gives da som indsprøjtning i en blodåre (vene) omtrent midtvejs i undersøgelsen.
Under hele undersøgelsen kan patienten komme i kontakt med personalet ved hjælp af en alarmbold (gummibold), som holdes i hånden under skanningen. Trykkes der på bolden, vil personalet straks kontakte patienten. Imellem målingerne kan patienten tale med personalet via et samtaleanlæg.
Undersøgelsen er ikke forbundet med nogen risiko og gør ikke ondt. Apparatet larmer meget under målingerne, så der udleveres høreværn.
Yderligere information møntet på patienter, pårørende og sundhedsfagligt personale findes på MR-afdelingens dansk-sprogede hjemmeside, mens MR-forskningen i Hvidovre er beskrevet på den engelsksprogede DRCMR hjemmeside, i centrets publikationer og i årsrapporter.