The Neuroimaging of Movement Disorders (NiMoDis) group is headed by Prof. Hartwig Siebner and Associate Professor Annemette Løkkegaard. The NiMoDis group is situated both at DRCMR and the Department of Neurology at Copenhagen University Hospital Bispebjerg. Our research primarily focuses on Parkinson´s disease and dystonia.
The mission of the NiMoDis group is to use advanced brain mapping techniques to investigate how movement disorders alter brain function and structure in motor, cognitive and limbic systems. We are not only interested in studying primary dysfunction directly caused by the movement disorder but also secondary dysfunctions of brain networks that are associated with therapy. We wish to exploit this knowledge to advance personalized medicine and precision treatment.
Key projects
Tracing the emergence of dyskinesia in Parkinson´s disease
Dopamine replacement therapy with levodopa is a cornerstone in the treatment for Parkinson's disease. While dopamine replacement therapy is effective, a large subgroup of patients develops involuntary movements (dyskinesia) as a side effect after several years of treatment. Our research group has recently implicated the pre-supplementary motor area (pre-SMA) in the pathophysiology of levodopa-induced dyskinesia. Using functional magnetic resonance imaging (fMRI), which reflects regional cerebral activity, we showed that a single oral dose of levodopa gave rise to an abnormal activation of the pre-SMA and the putamen during a response inhibition (NoGo) task in PD patients who would later develop dyskinesia. This hyperactivity emerged rapidly within a few minutes after the intake of levodopa. At the individual level, the excessive neural activation during the pre-dyskinesia period predicted the severity of patient´s day-to-day dyskinetic movements. This is the first time that a non-invasive neuroimaging technique was able to show a hypersensitization of key components of the motor network to levodopa in patients with dyskinesia. We are currently exploring this excessive network response in more detail.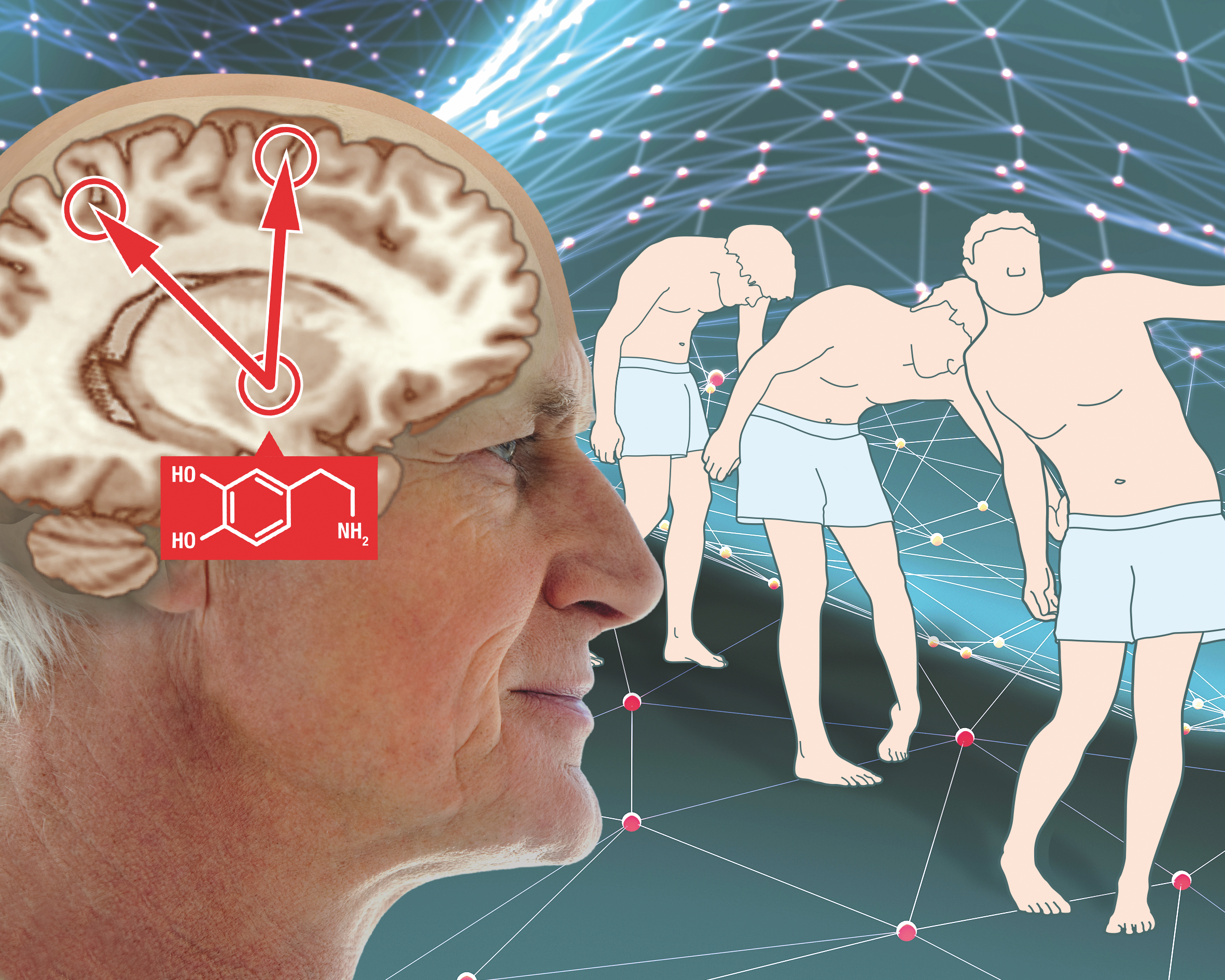 Fig. 1: Tracing the emergence of dyskinesia in Parkinson´s disease. Patients had to press a button on a compute mouse (Right or Left) or refrain from a response (NoGo) after dopamine withdrawal (OFF) and immediately after levodopa intake (ON), whilst functional MRI was simultaneously acquired. Functional MRI (fMRI) of the brain started shortly after levodopa intake and was stopped, as soon as dyskinesia emerged. Analysis of the fMRI data showed overactivity of the preSMA and putamen in patients who later developed dyskinesias. This difference in brain activity was only observed when patients had to withhold a movement (NoGo). Furthermore, the extent of the abnormal brain response to levodopa predicted whether or not a patient would develop dyskinesia and correlated with the severity of levo-dopa induced dyskinesia.
Medication-induced impulse control disorders in Parkinson's disease
Over the recent years it has become evident that a substantial fraction of patients with Parkinson's disease develop impulse control disorders (ICD) as a result of dopaminergic medication. Most common ICD manifestations in Parkinson's disease are pathological gambling, compulsive buying, compulsive sexual behaviours and eating disorders. These impulsive behaviours have serious psycho-social and economic consequences for the patients and their relatives. It is widely thought that impulsive behaviours result from a dysfunction of brain networks involved in response inhibition.
Using a novel sequential gambling paradigm for fMRI (see figure), we studied task-induced activation of the response inhibition networks in patients with and without ICD. On two separate days, we scanned patients with Parkinson´s disease, while they were taking their usual dopaminergic treatment and after treatment had been paused. This allowed us to investigate how response inhibition networks were affected by dopaminergic treatment in the two groups.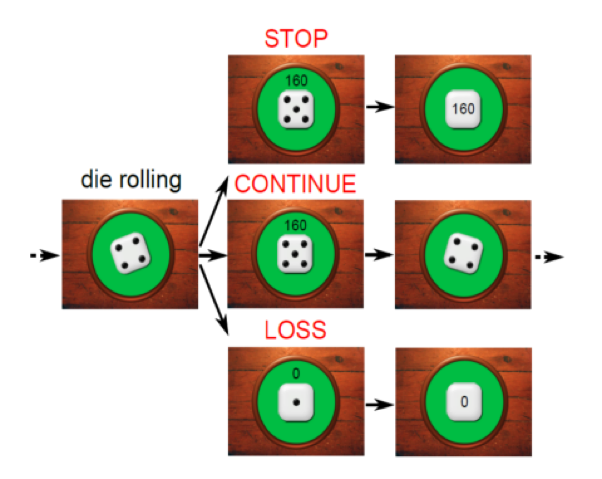 Fig. 2: Changes in inhibition networks in ICD. Patients with Parkinson´s Disease (PD) played a sequential dice gambling task. In each round, patients accumulated reward in proportion to the number of eyes on the dice from throw to throw. If patients threw a "1", all earnings accumulated in that round would be lost. At each throw patients had the choice between continuing the gamble (CONTINUE) or to stop.
Research Funding
We wish to thank for the generous support by the Danish Parkinson Association, Augustinusfonden, the Jascha Foundation, and the Danish Council for Independent Research - Health and Disease (grant. 09-072163) and Social Sciences ("Ludomaniprogrammet", grant. 10-088255).