ADAPT-PD (ADAptive and Precise brain-circuit Targeting in Parkinson's disease) is a collaborative project headed by Hartwig Siebner and funded by the Lundbeck Foundation. ADAPT-PD is a collaboration between three sites: DRCMR - Copenhagen, Charité - Universitätsmedizin Berlin, and Lund University - Department of Experimental Medical Science. Furthermore, the Copenhagen site at DRCMR has a close collaboration with the Department of Neurology at Copenhagen University Hospital Bispebjerg.
Our research focuses on investigating dysfunctional circuit dynamics in cortico-basal ganglia (CBG) projections to improve motor and non-motor function in Parkinson´s disease using a multi-modal approach. Invasive recordings and optogenetic stimulation in rodent models of PD as well as invasive electrophysiologic recordings and non-invasive brain mapping in patients will yield novel insights into critical CBG circuit features that constitute candidate targets for ADAPT.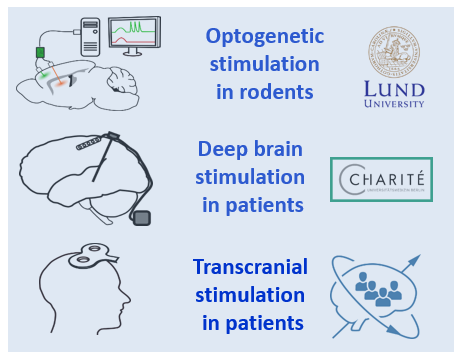 Figure legend: Each site focuses on a different stimulation technique.
These lines of research will inform the optimization of transcranial and deep brain stimulation in PD patients and be used to fine tune ADAPT in space and time. ADAPT will greatly advance the mechanistic understanding of CBG circuit dynamics in health and PD and create a powerful hub for causal brain circuit discovery, paving the way for personalized device-based neurostimulation, with therapeutic implications beyond PD.