Shaping and Understanding Human Brain Function using Transcranial Brain Stimulation
Non-invasive transcranial brain stimulation (NTBS) methods allow the transient modulation of brain activity by inducing electric currents in the brain with little to no discomfort. At DRCMR we exploit the biomedical potential of NTBS in three focus areas:
Understanding Brain Function: We apply neurostimulation to perturb brain activity and neuroimaging to measure how the brain reacts to this perturbation. This "virtual lesion" approach allows the causal demonstration of relationships between brain structure and function. This is in contrast to neuroimaging alone that is limited to demonstrating correlations between the recorded brain activity and behavior. By combining both techniques we gain insight into both healthy and pathological brain function.
Shaping brain function: We use neurostimulation to induce plasticity in functional brain networks. Revealing the impact of neurostimulation on behavior and brain activity also improves our understanding of the NTBS methods themselves. In turn, we use this to develop the neurostimulation interventions further and to increase their effectiveness.
Applying neurostimulation in clinical populations: We test the effectiveness of advanced neurostimulation protocols to improve disease-related impairments.
INTERLEAVING NTBS AND NEUROIMAGING
We have a particular interest in combining NTBS with advanced brain mapping. Both methods can benefit from each other: Brain mapping can tell us how NTBS works. We use neuroimaging approaches such as functional Magnetic Resonance imaging (fMRI) and electroencephalography (EEG) to test the impact of NTBS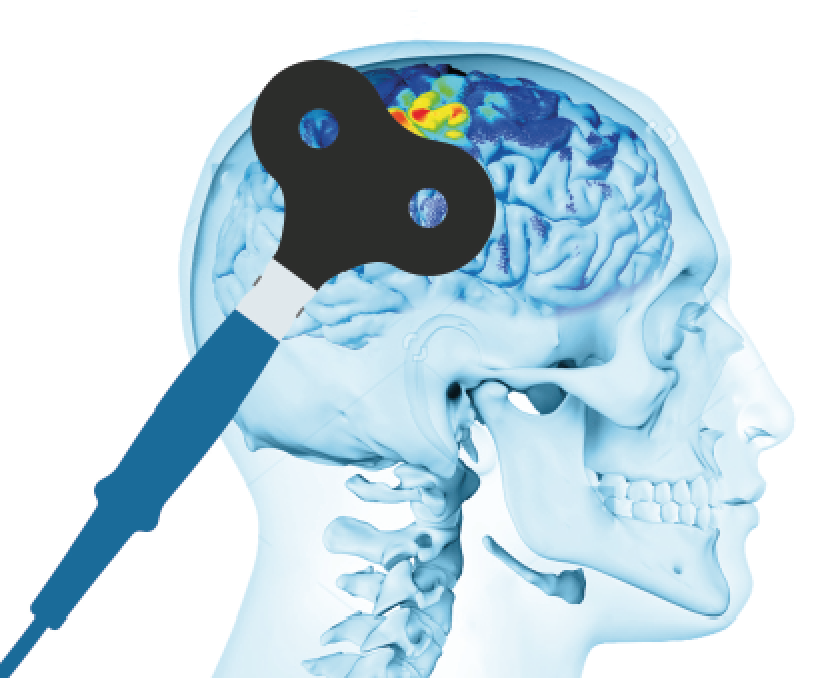 both on the directly stimulated brain areas and on remote connected areas (Stimulate-and-map approach).
A particular methodological strengths at DRCMR are the combination of TMS with fMRI, both online (i.e. stimulation during fMRI) and offline (i.e. fMRI after stimulation). Online combination of TMS with fMRI allows testing functional brain connectivity in a causal way (Moisa et al, 2012) while an offline combination allows understanding the immediate plastic reorganization after repetitive TMS protocols (Herz et al, 2015). We have further developed a novel mapping method that is able to reveal the cortical representations of individual finger muscles by combining structural MRI with focal TMS coils (Raffin et al, 2015) and a method to capture rapid state-dependent fluctuations in individual TMS threshold levels (Karabanov et al, 2015). We are also pushing the computational models to better understand and steer the current flow generated by NTBS (Thielscher et al, 2011).
A current focus is to develop EEG as a means to assess the functional state of the brain at the time point of stimulation with millisecond resolution (Bergmann et al, 2012). Combining NTBS with EEG will allow for the implementation of closed looped methods in which NTBS is adapted on-the-fly to the current brain state to improve the effectiveness of the intervention (Karabanov et al, 2016).