How to become an intern/volunteer at DRCMR
The people involved in research at the DRCMR have many different backgrounds: MR technicians, radiologists, physicists, engineers, neurologists, psychiatrists, physicians, psychologists, (human) biologists, humanists, computer scientists, linguists, and chemists. Whether you come from Denmark, Europe or anywhere in the world, we recruit interns/volunteers from all these fields - as long as you have some theoretical knowledge of and an explicit interest in neuroscience. Practical experience with any of the tools/methods we use is of course an advantage. Interns/volunteers are involved in all facets of research, e.g. study initiation and design, design of experimental tasks, performing experiments and data acquisition (e.g. brain scanning, neuropsychological tests, etc.), data and image processing, statistical analyses and writing up articles.
An internship/volunteering at DRCMR can also lead to your involvement as part of a larger scientific project, e.g. for your master's thesis or indeed - if you find a supervisor sharing your enthusiasm - conducting a study yourself.
If you want to become an intern/volunteer, you should send an e-mail to Karam Sidaros at DRCMR introducing yourself and your interests.
An intern/volunteer will initially become a member of a research group associated with a supervisor. Trainees are expected to participate in:
The weekly research meeting in which ongoing and new projects are presented and discussed
Guest lectures
Regular (once/twice a year) courses in image and data analyses and MR technology
Specific journal clubs
Neuroscience educational course
Staff meetings
Project specific meetings
Meetings/lectures of interest at collaborating institutes
Interns/volunteers are expected to be able to commit to at least 5-6 months at DRCMR and can be fulltime or part-time. Internships are generally unpaid, but if you are coming to Denmark from abroad, we might be able to help with housing (depending on availability). We generally do not offer summer internships since the summer is a period where most of our researchers take vacation.
If you have a prospective enquiry about internships/volunteering at DRCMR, then we recommend that you write to Karam Sidaros. For us to effectively deal with your enquiry, we request that the same enquiry is not e-mailed to multiple group leaders.
Cornelia's Experience
As part of my studies in Cognition and Communication at the University of Copenhagen, I was left with the opportunity to do an internship which would complement my studies. With a background and experience in Media and Communication Studies, I wanted to explore my interest in cognitive science.
With some theoretical input through courses in cognitive science, empirical psychology, and cognitive neuroscience I got a good overview of the different research methods, approaches, and techniques. But since I am a more practical, or rather "learning by doing" person, I wanted to get more hands-on experience.
At the beginning of my second semester of my studies I applied for an internship at the DRCMR. I first wanted to participate in research concerned with linguistics and communication but was also open to and interested in areas involving decision making, behaviour, and emotions. I was assigned to the Reward and Homeostasis Group and took part at a research project involving cognitive neuroscience, behavioural economics, and decision making. I helped out by preparing the parts of the experiment and doing literature research on the topic.
I really enjoyed my time as an intern at the DRCMR and I learned a lot. The people there were very nice and very helpful – thanks to the open and international working environment. Even though I do not come from the natural sciences, as all of the other employees at the DRCMR do, I never felt like I lacked something in knowledge or practice. From the beginning, I had a lot of responsibilities and was encouraged to be curious and ask questions if I had any or if I did not understand something. Further, I learned a lot about the working day and environment of an active researcher.
Depending on your research group, you can dive into interesting projects and conduct experiments and are constantly learning new things and people. It also gives you the opportunity to get in touch with researchers from other institutions from around the world and establish some new contacts and therefore new possibilities for your future career.
Félix' Experience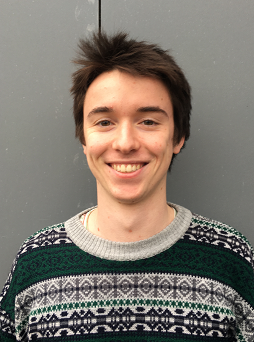 As part of my engineering studies at Paris-Saclay University, I had the opportunity to do a six months internship abroad before the last year of my master, to mature my professional project. I wanted to apply my computer science knowledge to the field of cognitive science, which has been a passion for a long time, and neuroscience research seemed to be a good way to do that.

I joined the Reward & Homeostasis group to work on statistical models of brain activation during learning experiments. With the help of my supervisors we were able to quickly define what I was going to work on and to fix clear goals. It was very stimulating to work on state-of-the-art data analysis techniques.

My work gave me a good insight into the work of a researcher: I read cutting-edge articles, I exchanged ideas and technics with students and researchers, I often felt overwhelmed by the complexity of the field, and sometimes foolishly happy to solve a problem I had spent the week on.

I really enjoyed the work atmosphere at the laboratory and the kindness of the researchers working here. There are a lot of meetings at DRMCR, which made me aware of all the amazing things other groups were working on around me. Methodology and education courses take place at any time of the year and give a very instructive overview of the techniques used in the field.

There are also a lot of students at DRMCR, coming from a wide variety of backgrounds and from all over the world, which brings a lot to the social life at DRCMR.

This internship made me want to carry on neuroscience research and I am now considering to do a Ph.D. in the field after my master's degree. I can only recommend this opportunity for anyone wanting to have a valuable research experience.