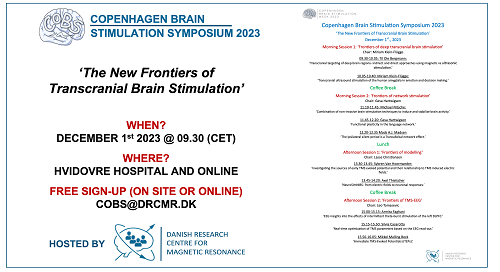 We look forward to welcoming international students, researchers, clinicians, and representatives from the industry to join the Copenhagen Brain Stimulation (COBS) week 2023.
The 'COBS WEEK' consists of an intensive four-day workshop followed by a one-day symposium. The workshop provides trainees with in-depth knowledge of the most common non-invasive transcranial brain stimulation techniques (TMS/TES//TUS).
The week is tailored to researchers and clinicians who wish to gain extensive insight into the basics and state-of-the art application of non-invasive brain stimulation. The program covers basic physical and physiological principles, electric field modelling, and a wide range of cognitive and clinical applications. A special focus will be put on multimodal combinations of NTBS with neuroimaging techniques such as EEG and fMRI and on the application of NTBS as precision medicine. All teaching modules are accompanied by hands-on sessions and demonstrations.
The COBS week finishes with a one-day symposium on Friday 1 December featuring talks from international experts on brain stimulation.
The 'COBS School' is already at full capacity, but if you wish to register for the COBS symposium, please send an email to and include your name, affiliation and whether you will be joining 'on site' or 'online'. The symposium is free regardless.
When?
27-30 November 2023 (School)
1 December 2023 (Symposium)
Where?
Danish Research Centre for Magnetic Resonance
Copenhagen University Hospital Amager & Hvidovre
Kettegård Alle 30
DK-2650 Hvidovre
Who?
COBS organizing committee:
Prof. Hartwig Siebner
Prof. Axel Thielscher
Assoc. Prof. Lasse Christiansen
Postdoc Mads Alexander Just Madsen
Language:
English