"Oh, were we supposed to meet today?" Many older persons may nod in recognition of forgetting an appointment, just like they often find themselves searching for words or forget to turn off the coffeemaker. That is not an alarming fact.
However, it becomes a challenge that our brains do not work at optimum level as we at the same time live longer.
Our Professor in Cognitive Neuroscience of Aging at DRCMR, Carl-Johan Boraxbekk, is progressing in research projects which through advanced brain imaging techniques and interventions, e.g. memory training or physical exercise, is going to tell us how the brain can be kept sharp and ready for a long ageing process. It might even be possible to delay an outbreak of dementia.
Memory and physical training
A starting point of Carl-Johan Boraxbekk's research can be a group of older persons, who respectively do physical exercises, memory exercises or no exercise at all, and he examines how their cognitive and brain functions may change as a result of the intervention.
"For instance, they are asked to remember a list of words, which can be very difficult for some older persons," says Carl-Johan Boraxbekk.
"The memory of our subjects is tested both before and after the invention. In addition, we scan their brains with advanced MR techniques, which reveals how the different activities influence structure, activity and chemistry of the brain, and how these changes can be translated into improved or at least maintained function" he continues.
Young - with focus on aging
At an age of 37, Carl-Johan Boraxbekk has not reached the danger zone of a tired and worn-down brain yet, but his fascination of the brain's significance for getting a long and healthy life started when he was younger.
"I have always done a lot of physical exercises myself, and I experienced that in the long-run it felt like a positive effect, and sometimes, in the short-run, especially directly after a tough training session, it almost felt negative. This is how I got interested in the possible effects of exercises on the brains of older people, and I see major opportunities in continuing my research here at Hvidovre Hospital," he adds.
Carl-Johan Boraxbekk got his Ph.D. in Physiology in 2008 and has done research on both motor and cognitive functions of the brain among older individuals.
About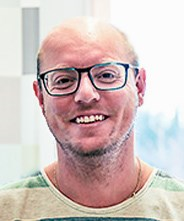 Carl-Johan Boraxbekk has studied Medicine and Psychology. He took a Master's degree in Psychology in 2004, and in 2008, he got a Ph.D. in Physiology from Umeå University. Here, he continued as an independently researcher, and in 2012, he was employed as an Associate Professor in Neuroscience.
In 2016, Carl-Johan Boraxbekk was affiliated to DRCMR, which is the Danish research centre for MR at the University of Copenhagen, Hvidovre Hospital, as a Visiting Professor financed by Lundbeck Foundation.
Carl-Johan Boraxbekk is the second Professor at AHH with a nbackground. The first is a Professor in Physio, Thomas Bandholm, who was employed in 2017. The two of them have mutual research interests and will be collaborating.
Carl-Johan Boraxbekk splits his time between Hvidovre Hospital and Umeå University in Sweden, where he will give his inaugural lecture in October 2018.
You can read more about the project (page 13) in the magazine "Demenskoordinatorer i Danmark" - click here (in Danish)
If you want to read about the project in English, click here.