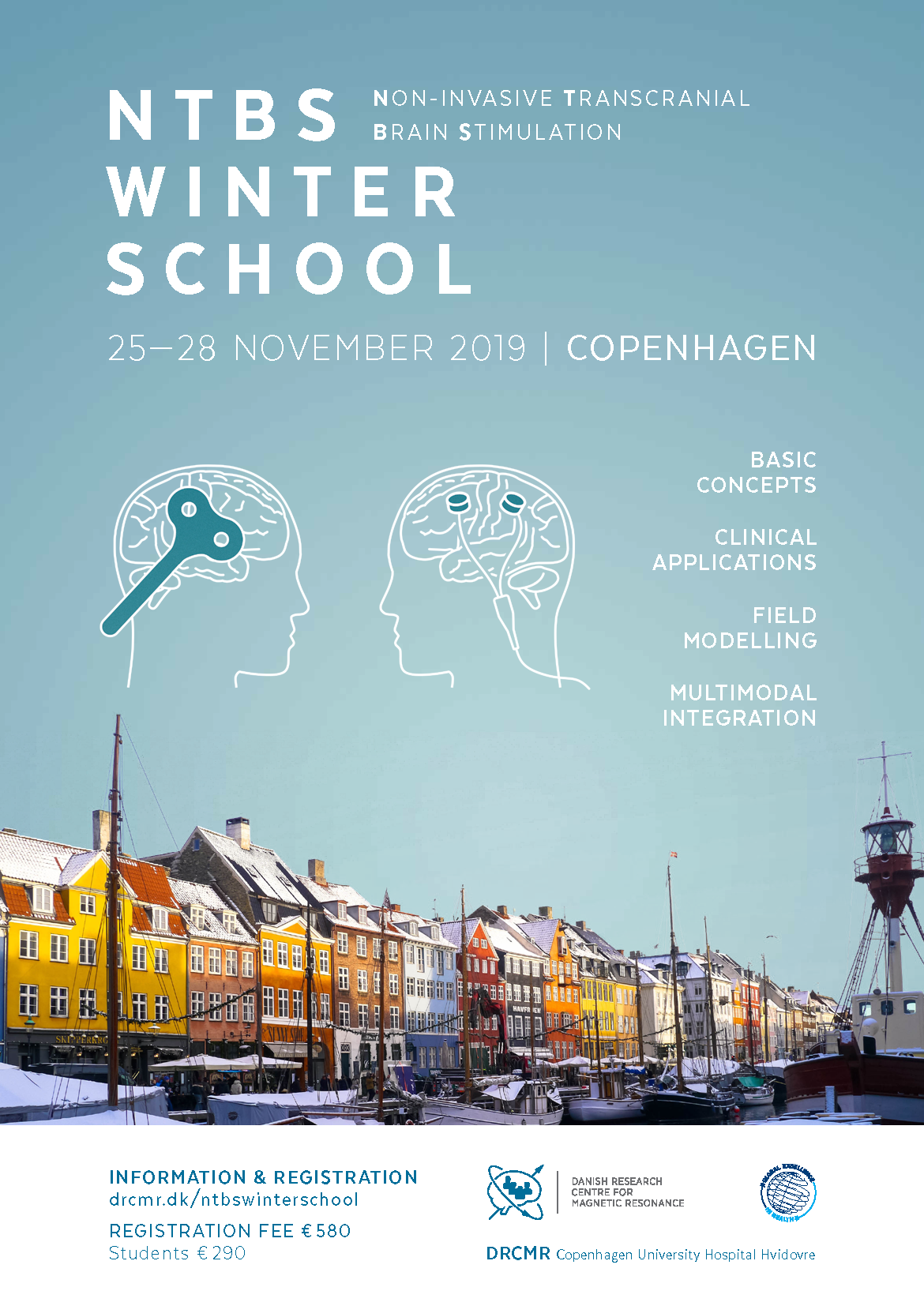 The NTBS Winter School in Copenhagen is an intensive four-day workshop providing participants with in-depth knowledge of the most common non-invasive transcranial brain stimulation techniques (TMS/TDCS/TACS).
The workshop is tailored to researchers and clinicians who wish to gain extensive insight into the basics and state-of-the art application of non-invasive brain stimulation. The workshop covers basic physical and physiological principles, electric field modelling, and a wide range of cognitive and clinical applications. A special focus will be put on multimodal combinations of NTBS with neuroimaging techniques such as EEG and fMRI and on the application of NTBS as precision medicine. All teaching modules are accompanied by hands-on sessions and demonstrations. A certificate of attendance will be provided upon course completion.
This year the NTBS winter school will be followed by a one-day scientific symposium on NTBS precision medicine held in Copenhagen. Attendance to the symposium is free for all workshop participants.
Registration:
To register for this course, please send an e-mail with:
Your name
Place of employment
Position
Dietary restrictions and
E-mail address
After registering for this event, you'll receive further information about finalizing your registration, accommodation, public transport and more. Deadline for registration and payment is 08 November 2019.
Payment:
https://drcmrworkshop.easysignup.com/4/
Address:
DRCMR
Copenhagen University Hospital Hvidovre
Kettegård Alle 30
DK-2650 Hvidovre
Date:
25-28 November 2019 (Workshop)
29 November 2019 (Symposium)
Price:
€580 (Students €290) including reading materials, coffee/tea, light lunches & attendance to the NTBS precision medicine symposium
Deadline:
08.11.2019
Faculty:
Prof. Hartwig Siebner
Ass. Prof. Axel Thielscher
PhD Lasse Christiansen
MSc. Mads Alexander Just Madsen
Language:
English