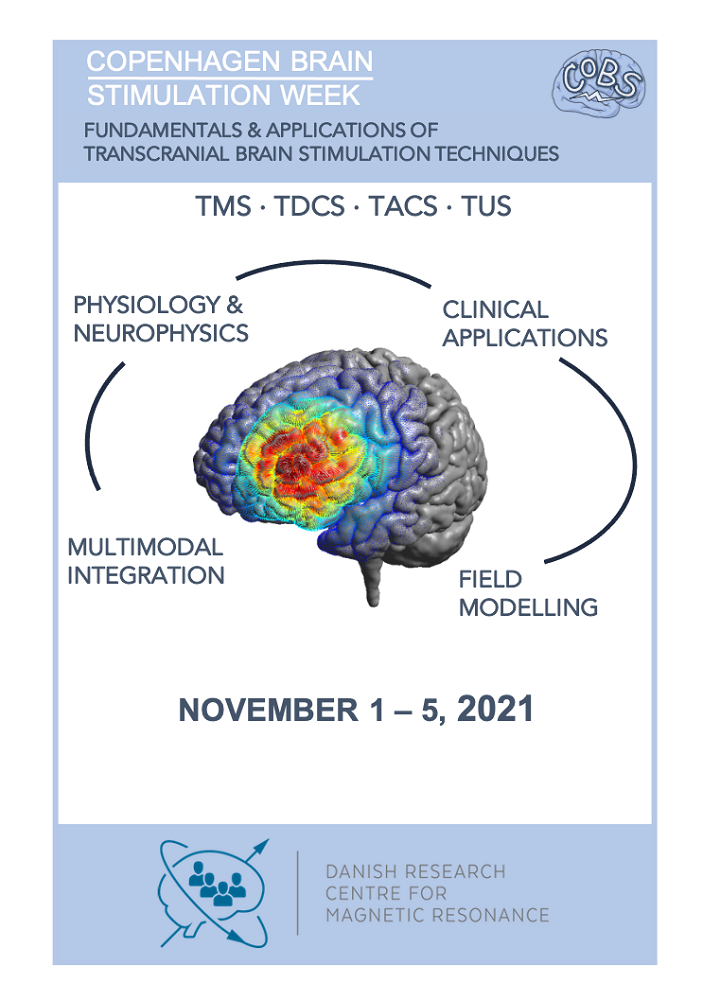 We welcome international students, researchers, clinicians, and representatives from the industry to join the COPENHAGEN BRAIN STIMULATION WEEK 2021 - a course offering full immersion into transcranial brain stimulation. The course provides knowledge and know-how enabling attendees to carry out high-quality brain stimulation experiments and analyses covering all non-invasive modalities (TMS, TDCS, TACS, TUS).
The program entails four days of keynote presentations from renowned international scientists in the morning followed by hands-on sessions spanning from basic physiology and physics of brain stimulation to clinical applications in the afternoon.
The course ends with a 1-day-symposium on Friday November 5th feating talks from international experts on brain stimulation.
Registration:
To register for this course, please send an e-mail with:
Your name
Place of employment
Position
Dietary restrictions and
E-mail address
After registering for this event, you'll receive further information about finalizing your registration, accommodation, public transport and more. Deadline for registration and payment is 17 October 2021.
Payment
https://drcmrworkshop.easysignup.com/5/
Address:
DRCMR - Danish Research Centre for Magnetic Resonance
Copenhagen University Hospital Hvidovre
Kettegård Alle 30
DK-2650 Hvidovre
Date:
1-5 November 2021 (Workshop)
5 November 2021 (Symposium)
Price:
€590 (Students €390) including reading materials, light breakfast, coffee/tea & light lunches.
Deadline:
17 October 2021
Organizers:
Prof. Hartwig Siebner
Prof. Axel Thielscher
Postdoc Lasse Christiansen
PhD Student Mads Alexander Just Madsen
Language:
English