THE AIM:
The aim of the Danish National 7 Tesla Project is to provide a state-of-the-art facility for cutting edge imaging research open to all researchers in Denmark. The installed 7 tesla ultra-high field human MR scanner is equipped with the latest hardware and it will keep Denmark in a leading position within imaging research. This setup foster close collaborations across centers, both nationally and internationally and the good synergy will therefore ensure a fast progress, not only within imaging sciences but also in basic science and clinical research.
THE SCANNER:
The installed Philips Achieva 7.0 T is an actively shielded magnet. It is ideal for very high-resolution functional and structural imaging at submillimeter isotropic resolutions not possible on the clinical scanners. The ultra-high field also result in a significant improvement of spectroscopy, which is used to measure the metabolic status of the tissue.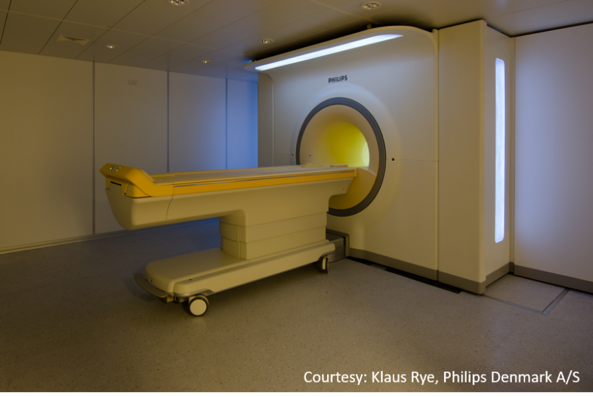 THE ORGANIZATION OF THE DANISH NATIONAL 7 TESLA PROJECT:
The national 7 tesla scanner is located at Hvidovre Hospital in Copenhagen. A steering committee oversee the scientific content and progress of the facility and an executive committee coordinate and quality ensure the proposed 7T projects according to the guidelines set by the steering committee.
HOW TO CONDUCT A STUDY ON 7T:
The study activities on the 7 tesla MRI are coordinated by the executive committee of the Danish National 7 Tesla MR Project. In addition, the 7T system is not CE labelled; consequently, approval from not only the local ethical committee but also the Danish Medicines Agency is required in order to conduct human studies on the system. Therefore, to get started with a project as a Principal Investigator at one of the Danish education or health institutions, you need to follow a series of steps: