7T scanner donation (Ultra-højfelts skanner doneret til DRCMR)
(Danish version appears below )
The John and Birthe Meyer Foundation has very generously donated an ultra-high field MRI facility to be located at The Danish Research Centre for MR located at Hvidovre Hospital. The facility will include an MR scanner for human use operating at a magnetic field strength of no less than 140.000 times the earth magnetic field (7 tesla)!
This provides unprecedented possibilities for research and special clinical procedures. Brain images acquired at ultra-high magnetic fields, for example, can be extremely detailed and the contrast differs significantly from those acquired at conventional field strengths (example below). Research directed at diseases such as multiple sclerosis and arthritis will benefit very significantly from the donation.
Also functional brain imaging (fMRI) used to map brain activity and to explore thought processes is among the techniques that will benefit most from the new scanner. The DRCMR has a very strong research profile in this field. Mapping of metabolites in the body is similarly improved as the sensitivity increases.
The donation of roughly 5.2 million € from The John and Birthe Meyer Foundation followed a donation of 3.6 million € from the Danish Research Councils. Together they provided the funding needed for establishing the 7T facility.
The scanner is ordered and was scheduled for delivery in 2013, but unfortunately there will be a significant delay. There is only one vendor of ultra-high field magnets globally, and the magnet is a crucial part of an MRI scanner. The manufacturar currently supplies magnets at a rate which is far below that needed to meet demands. A main reason is the global shortage of helium needed in large amounts to cool the powerful magnets. When the magnet is operational, further consumption will be minimal. In the meantime 7T scanning evolves and is demonstrating amazing advances, which makes the waiting extra frustrating.
The applicant group includes clinicians and researchers throughout the country, who need access to this unique instrument to keep and strengthen the good Danish position in international MR-related research.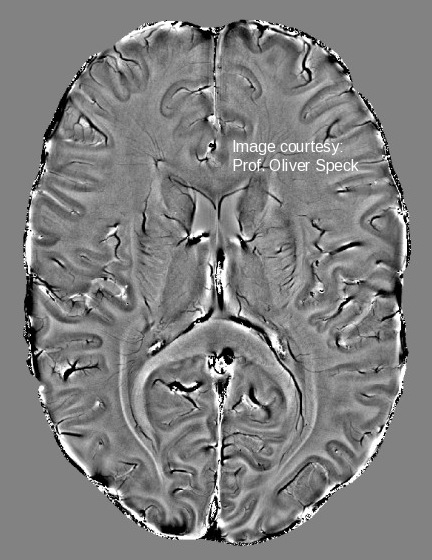 The John og Birthe Meyer Foundation har meget generøst foretaget en overordentlig stor donation af midler til etablering af en ultra-højfelts facilitet til MR-centret på Hvidovre Hospital. Faciliteten vil omfatte en MR skanner til human brug med en magnetisk feltstyrke på ikke mindre end 140,000 gange jordens magnetfelt (7 tesla)!

Dette giver hidtil usete muligheder for forskning og særlige kliniske undersøgelser. Hjernebilleder optaget ved ultra-høje magnetfelter kan eksempelvis være ekstremt detaljerede med kontrast, der adskiller sig væsentligt fra den, der kendetegner konventionelle feltstyrker (eksempel ovenfor). Forskning rettet mod sygdomme som multipel sklerose og gigt vil gavnes meget væsentligt af donationen.

Også funktionel hjerneskanning (fMRI), der anvendes til at kortlægge hjernens aktivitet og udforske tankeprocesser er blandt de teknikker, der vil drage størst fordel af den nye skanner. MR-afdelingen på Hvidovre Hospital har en meget stærk forskningsprofil inden for dette område. Kortlægning af metabolitter i kroppen er ligeledes forbedret, da følsomheden øges.

Donationen af 38,6 millioner kroner fra The John og Birthe Meyer Foundation følger en donation på 27,4 millioner kroner fra de nationale forskningsråd. Tilsammen udgør bevillingerne den nødvendige finansiering til at 7T centret.
Skanneren er bestilt og var planlagt til levering i 2013, men desværre vil der være en væsentlig forsinkelse. Der er kun én leverandør af ultra-høj felt magneter globalt, og magneten er en afgørende del af en MR-skanner. Leverancer sker i øjeblikket med en hastighed, som er langt under den nødvendige for at opfylde behovene. En hovedårsag er en global mangel på helium, som er nødvendig i store mængder til at køle de kraftige magneter. Når først magneten er i brug, er yderligere behov minimale. I mellemtiden udvikles 7T skanning videre og demonstrerer fantastiske fremskridt, hvilket gør ventetiden ekstra frustrerende.
Ansøgergruppen omfatter klinikere og forskere i hele landet, der har behov for adgang til dette unikke instrument til at beholde og styrke den gode danske placering i international MR-relateret forskning.
Se iøvrigt pressemeddelelse om donationen på Hvidovre Hospitals hjemmeside.