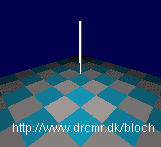 Free educational MRI sofware version 3.1 is available for Windows, Mac and Linux. Easy to install and use. The software is described in
RadioGraphics
(Reviewer1: "
Very nicely done...
". Reviewer2: "
...help greatly during classroom presentations of MRI basics and applications...
"). Version 3.1 offers much improved visualization of magnetic resonance phenomena via support for an
add-on, open-source OpenGL viewer
that exploit the capabilities of modern 3D graphics cards. Click for
info, example animations and download.